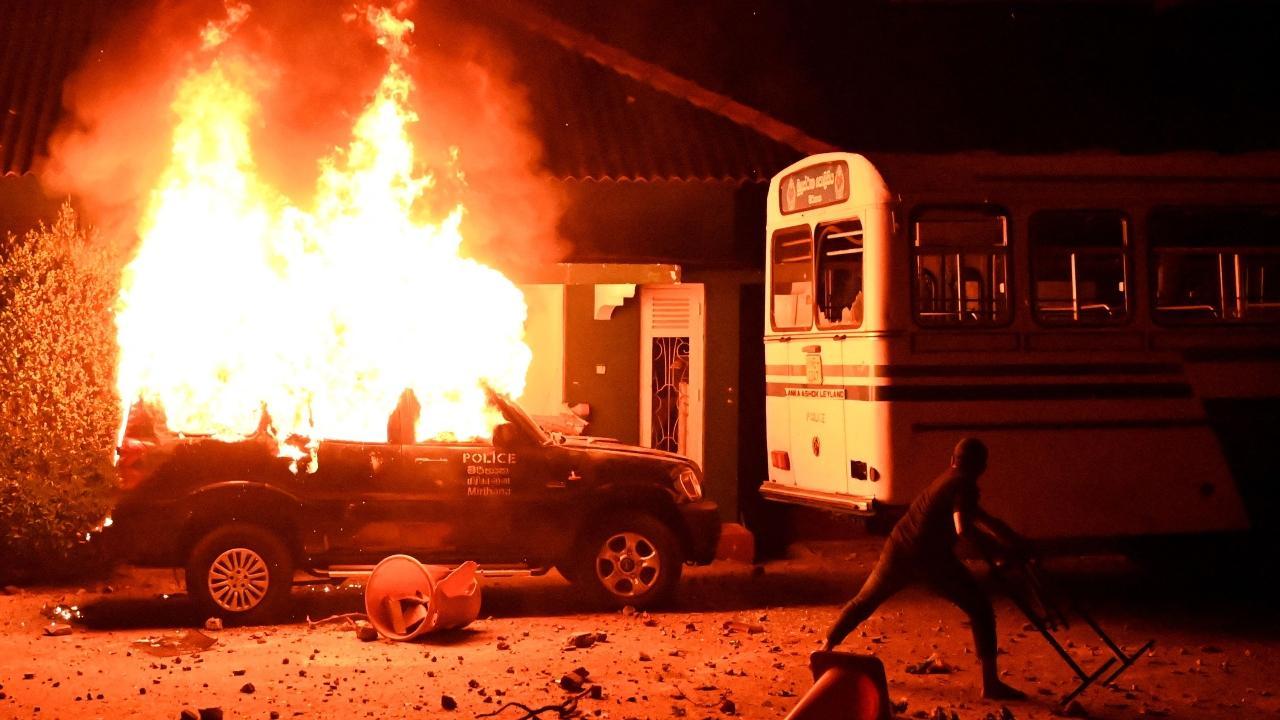 WHAT IS THE SRI LANKAN ECONOMIC CRISIS
–The Sri Lankan economy is undergoing a twin crisis: debt and foreign exchange crisis.
–The total current external debt for Sri Lanka stands at $45 billion.
–However, in February 2022, the country only had $2.31 in foreign exchange reserves. Due to low foreign exchange reserves, the country is unable to pay for essential commodities and is hence enduring shortages of food, medicine, fertilizer, and fuel, with power outages lasting for over 13 hours.
–Sri Lanka has witnessed 25 percent inflation over the past month.
–The current price of 1 kg of rice is Rs 500, and sugar is being sold at Rs 290/kg. All this with the fuel left that would last for a day or two.
–Cooking gas is being delivered only once a week now.
CAUSES OF THE CRISIS
–In April 2019, there were multiple bombings in different parts of the country that killed at least 290 people and injured 45 foreign nationals. This heavily impacted tourism. The very next month saw religious tensions.
–In March 2020, the Covid pandemic further affected the tourism sector. The Sri Lankan economy is a tourism-based economy, with tourism contributing to 13% of the GDP in 2019.
–Due to the pandemic and subsequent international travel restrictions, the international tourist traffic declined drastically, shrinking the foreign reserves to 70% in the past two years.
–Other export industries like tea, garments, and spices have also witnessed a downfall due to the pandemic.
–However, Sri Lanka's crippling foreign debt has been in the making for a long time. For the past decade, China has lent over $5 billion to Sri Lanka for massive infrastructure projects like building ports, a coal power plant and an airport. These projects did not produce value for the economy and yielded low returns.
–Sri Lanka imports basic items like sugar, cereals, pharmaceuticals, etc. Since the country is in a debt of 4 billion dollars, the items available in the country are being sold at a higher price than usual.
REFORMS OR BLUNDERS?
–One of the sweeping agricultural reforms was to make Sri Lanka's agriculture organic, hence the ban on the import of fertilizers in April 2021. This lowered the agriculture production to 30%. As a result, the country became more dependent on imports to sustain its population, weakening its currency against the dollar, and lowering its foreign reserves.
— Ban on chemical fertilizers that triggered farmer protests saw a decline in the production of critical tea and rice crops.
–The President of Sri Lanka had promised the people a deduction in taxes if he won the elections. Upon resuming power, he lowered the goods and services (GST) from 15% to 8% and increased the tax slab of "no tax" from Sri Lankan rupees 500,000 to 3,000,000. The percentage of people who were paying taxes in Sri Lanka went down by 33.4%. This led them to take another loan of $1.5 billion from IMF.
— The adverse impact of COVID-19 and the announced relief spending measures led to higher government spending (with a weak revenue base) making fiscal deficits to be larger than 10% of GDP in 2020 and 2021, while the economy witnessed a rapid increase in public debt to 119% of GDP in 2021.
–Printing currency during the economic crisis was another blunder – highly inflationary.
— Bad macroeconomic policy management further accentuated the economic crisis making the common citizenry suffer. Inflation rates continued to climb up, reaching double digits in December 2021, while reflecting the cascading effects of imported inflation from rising oil-food import prices, supply shocks, and a pickup in domestic consumer demand.
LESSONS TO BE LEARNT BY INDIA
–No developing country can sustain the basic needs of its population by moving away from its primary sector like agriculture and promoting sectors heavily dependent on foreign income like tourism.
–Populist policies, and divisive politics, with the sole goal to win the election, while in the short term will make people happy, it is not sustainable in the long run. This is quite akin to India's current political scenario.
–It would be also wise to ensure that the returns from any massive infrastructure investment in India like airports or the development of bullet trains are adequately assessed and are backed by the support from the countries with which India has genial foreign relations.
— Diversification of the export basket is important for India. Diversification also includes diversification of in manufacturing sector, semiconductors, active pharmaceutical ingredients required for medicines etc.
–It is not possible to sustain high consumption without a concurrent increase in income and self-reliant production of essential commodities. Therefore, it is important to keep an eye on moving too quickly to organic farming, big projects which might not yield high returns and burgeoning debt-to-GDP ratio. Kautilya's economics as prescribed in 'Arthashastra' also emphasises the importance of developing industries that can make the nation self-sufficient.
–Atmanirbhar India should encourage indigenous production as well as introduce production-linked incentive schemes (PLIs) for various sectors of the economy. Also, first, we need to demonstrate 90% natural or organic farming in India and only then think of banning any import of chemical fertilizers.
–GST implementation should look deeply towards poor MSME workers and factory owners who may not be able to pay due to lack of clarity and shutting down of businesses. They should be helped out by on-ground surveys, GST education, digital literacy and incentives to kick start their business if facing a slump. Punishment and penalties won't help them survive; they will in fact shut down businesses and lead to mass unemployment.
–Inflation does not mean that the country is growing. Inflation invariable means the cost of goods and services is higher, but that is not growth. Our country men's purchasing power should increase, then only that growth rate of 8.2% – the fastest growing economy – will make sense.
–Unlike Sri Lanka, India's per capita income and performance in social sectors like healthcare, education and social security is worse. It's a wake-up call for us.
–On high youth unemployment, Sri Lanka's inability to address the crisis of job creation amongst its youth, led to street protests and angst against the incumbent government. India's unemployment and joblessness crisis is far worse – in aggregate. Till we mobilise our youth in mass employment opportunities, their resentment will be like a boiling pot waiting to spill over.
–Microfinance, involving women in credit, is another way of helping out small businesses.
We cannot compare Sri Lanka and India; our social, political, geographical and economic structures are different; but still, there are things to be pondered upon.
–BY YOGITA KADU